More people are finding themselves searching for work from home jobs, also known as WFH jobs, more than ever nowadays. The good news is… there are also more WFH jobs to choose from!
These jobs exist!
COVID-19 precautions can mean that offices have shut down or had to reduce expenses. Employers are starting to see the benefits of not having their employees come into a physical office. Fortunately, technology has also caught up to the point were more people can easily do their job from home.
All of this means that you will likely find more legitimate work from home opportunities than before, but you'll still need to be careful. Know what to look for, what job works best for you, and set your expectations to a reasonable level.
Beware of scams
Although genuine work from home jobs absolutely do exist, there are still a lot of scams that you will likely need to wade through to find those real career opportunities. Expect to find frauds and scams, and know how to protect yourself against them.
Your first step should always be a skeptical internet search of the company and of the job offer. Type the company's name along with the word "scam" into your favorite search engine. If a job pitch sounds too good to be true… it probably is!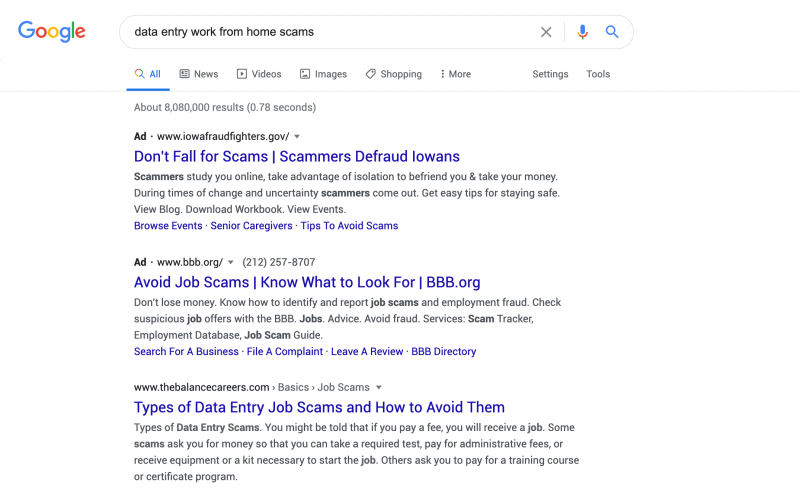 You should never have to make a payment, purchase materials from the company, or pay for a class or seminar to start a real work from home job. Having to purchase something first is a sign of a multi-level marketing scheme or a pyramid scheme. Very few people make money from these companies unless they were one of the first people to sign up for the scheme.
Is it the right fit?
Once you have identified which jobs are genuine, make sure that they will work for your specific situation and skill set. Just like regular in-person jobs, work from home careers should utilize your talents and interests.
Focus on the jobs which give you a chance to do what you like or explore a skill that you are curious to learn. Not every work from home job will be the right fit.
You should also consider how flexible the work from home job is. Will you need to sit at a desk for a certain number of hours a day? Will you need a dedicated landline phone? You might even need to live in a certain area or speak a language fluently. If it's not the right fit, move on!
Expect to find "gig work" opportunities
Many WFH jobs are what are known as "gig jobs", which means you get paid per piece of work that you complete. This could be a wide variety of jobs… writing articles, transcribing audio, answering phone calls, or completing artwork commissions! Be aware that, unlike a salaried job, these gig opportunities won't provide a steady paycheck each time. It is based on the amount of work you do. Read each job listing carefully so you know what you are applying for.
Even though you are at home, you will still be hard at work!
Despite the fact that you might be able to work in your pajamas, these are still jobs. Just like working in-person in an office or store, it won't always be fun.
You might need to work long hours, deal with difficult people over email or phone calls, and make stressful decisions. Remember that this is part of any job, not just work from home jobs. Have reasonable expectations for what a WFH job entails and the drawbacks it might have.
Make sure to check out our tips for staying productive while working from home.
No career is perfect. However, with a little research and a flexible attitude, you can know what to expect when searching for a work from home job and find the best on for you!
_____________________
If finding a work from home job seems a bit overwhelming, find work opportunities right here in Pennsylvania: https://findajobpa.com/jobs/