Here's How Much It Costs To Post With Us
We offer two different job posting options: a regular ad, and a featured ad.
Regular 30 Day Ad: $125

This only includes a post on our website. We won't promote your post outside of our website.

Featured 30-Day Ad: $250

This includes a post on our site PLUS many additional features as listed below.
Why Pay More For A Featured Ad?
We guarantee you'll reach thousands more job-seekers on the FindAJobPA.com Facebook, Instagram, Twitter, and LinkedIn pages. Our pages average 8,000 views per month, and most clients have their jobs featured at least twice a month.
Your job posts are highlighted and will remain on the top of our job board – you'll always have jobs on Page 1.
We'll design custom creatives for your jobs or feature your in-house creatives – whichever works best for you. We don't charge you extra if we need to design multiple creatives for the same job post.
When you pay for a featured ad, we can also create custom Facebook ads with advanced targeting and analytics with a 0% commission fee. That means you set a budget and 100% of that budget goes directly to the Facebook ad manager budget. These Facebook ads are in addition to your posts on our social media pages. With a $100 monthly budget, our Facebook advertising clients typically reach 5,000 – 10,000 additional job-seekers and get an average of 150 additional link clicks per advertised job.
We'll feature your job with our partners at the Tri-County Insider and get your job a spotlight in their daily news email to reach thousands more local job-seekers.
Here's Why You Should Post With Us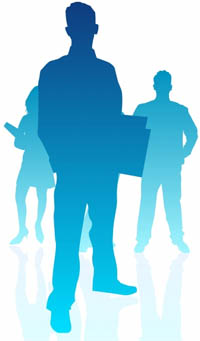 80% of job seekers are looking for their next job online. This trend is growing exponentially each year, especially with the past few years driving much more online engagement. Advertising your employment opening on a digital platform is essential to attracting qualified candidates and reaching the right job seekers that align with your opportunities.
When you've got an open job opportunity, you have lots of questions on your mind:
How do you attract qualified applicants?
Where should you advertise?
Which platforms should you use?
How do you reach the people relevant to your business in a timely manner without breaking the bank?
At FindAJobPA.com our goal is to answer these questions by providing a LOCAL and cost-effective way for you to advertise your employment opening(s). While we primarily serve the Clarion-Jefferson-Elk tri-county area, we have website visitors and social media followers from all over Pennsylvania (and the rest of the USA).
Thanks to powerful advertising tools we can customize your geographic location, audience interests, and budget, putting you in control of your job posting and providing a better return on investment.  With social media we can reach that "passive job seeker" who may be currently employed, but interested in exploring new opportunities. In fact, over 50% of currently-employed individuals would fall into this category, expanding your candidate pool even further.
To post a job, or to get your questions answered, you can email your advertisement to [email protected] or call Melissa at 814-590-6221 for exclusive discounts and promotions. You can also post your job online using our secure payment portal if that's easier for you.
We can't wait to partner with you and help you fill those open jobs! Thank you for considering FindAJobPA.com for your job posting needs.
Here's How To Post With Us
Picture Your Job Ad Here:
Ready To Get Started?
Click the button below to post your job with our online job posting form.